When you think pyramids do you flash to Egypt? Or Mexico and Guatemala?
Maybe even China and Peru?
But how about Sudan? They're here, too.
And, if that's not enough to get you going, Sudan has more pyramids than Egypt.
AND they are older*.
---
The Pyramids in Sudan at Meroe are up to 4,600 Years Old
* Well, not if you count the one at Saqqara which is about 4,700 years old. That step – yeah step, not triangular – pyramid was the first one the Egyptians ever built. (I visited Saqqara in 1995.)
---
In Sudan, there are many pyramid sites near the Nile River.
But I'll focus on the most famous and most breathtaking pyramids – at Meroe, also known as Begrawiya, around 250 km north of the Sudanese capital, Khartoum.

---
History of the Meroe Pyramids
During its peak, the Meroe Empire stretched over 1,000 km of the Nile valley.
Knowledge of the Meroe pyramids was first brought to the European world by Frederic Cailliaud in 1821.

It had once been the capital of the Napata / Meroitic Kingdom (circa. 800 BC — 350 AD) and deciphered Meroitic texts name the city as Medewi or Bedewi.

The importance of Meroe increased from the reign of Arrakkamani (c. 280 BC) when the royal burial ground was transferred from the old northern capital, near modern-day Karima*.

Wikipedia
*Karima also has some awesome pyramids. I went there after Meroe.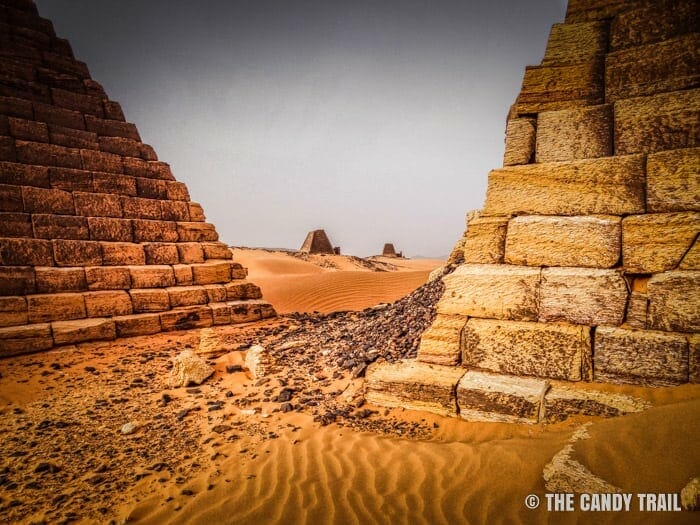 Meroe's wealth came from iron-smelting and the presence of gold deposits, with international trade reaching India and China.
The iron industry of Meroe made the city as famous as its wealth and, of course, contributed greatly to that wealth as the iron workers of Meroe were considered the best, and iron tools and weapons were much sought after.

https://www.ancient.eu/Meroe/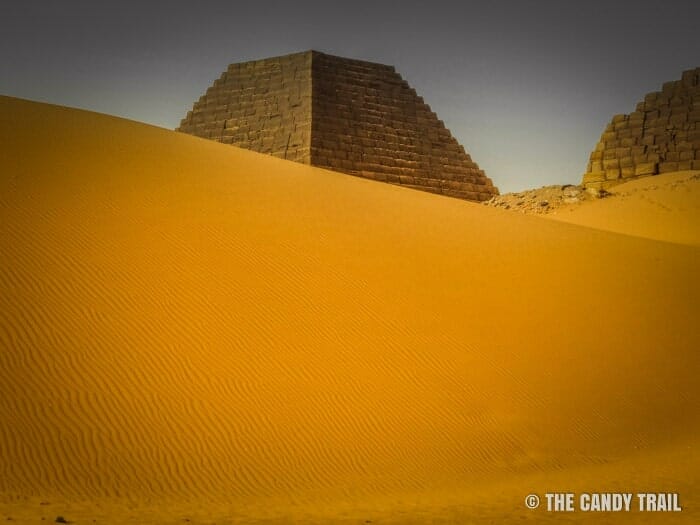 Research says the pyramids were built over burial chambers and that bodies were either burned or buried – but not mummified. Inside the now empty chambers, carved reliefs depict the names and representations of royalty and chapters from the Book of the Dead.
---
Destruction of the Meroe Pyramids
Despite the passage of time and ancient looters, the pyramids of Meroe have stayed mostly intact.
With one frightful exception – (asshole) Giuseppe Ferlini severely damaged many pyramids in 1834 by blowing off the tops +/or leveling up to 40 different pyramids with dynamite!
WTF! Why?
Well, as a treasure hunter, he'd heard about silver and gold that was rumored to be hidden within the pyramids (but there wasn't the great wealth he expected).
In recent times, some pyramids have been rebuilt.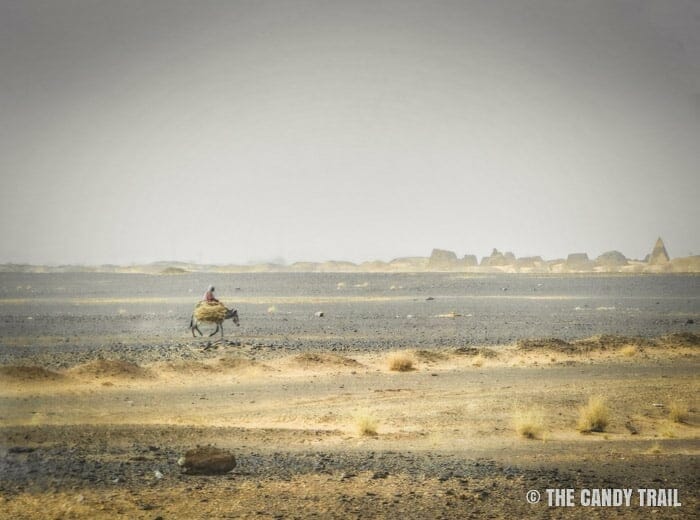 For me, it was a brilliant, memorable visit to Meroe.
The pyramids – for sure, are wondrous and seemingly lost amid the sand dunes. But also picturesque, were the timeless adobe villages along the desert road.
And then, there was the eccentric taxi driver bursting into sudden song between picking his nose or cleaning his ears with his car-keys – pulled from the ignition – as he drove.

That evening back in Shendi, I had a happy encounter with 3 medical students at a cafe over chocolate ice-cream, fruit-juice and cheese-sausage pastries – all which, they insisted on paying for (in typical Sudanese / Islamic hospitality).
The day ended on a uncomfortable rope-bed and attempted-sleep.
The room was too hot – the shabby earthen walls just exhaled hot air like a heater; so I camped-out amid loads of Sudanese men also on rope beds there in an open-air, starry-night courtyard of a crumbling, colonial inn during a searing mid-summer's night.
---
TRAVEL ADVICE for Pyramids of Sudan
---
Getting There and Where to Stay:
I stayed in Shendi – sadly, only two dire accommodation options for backpackers: super basic + cheap or expensive + rundown. (I opted for the former.)
From Shendi, I hired a taxi to Meroe (47 km each way) at total cost of 100 SDP, including waiting time.
If it's not mid-day in summer, it would be better to take a bus from Atbara to Shendi or Khartoum and get off, as it's only about a half kilometer from the highway. The pyramids are visible – you can't miss them. And returning, just hitchhike or flag down a southbound bus.
---
Specific Travel Tips for Meroe
Admission price: 50 SDP.
Late afternoon brings awesome light.
You will probably have the entire site to yourself (as I did).
Camping is possible away from the site.
Summer heat is unbearable, except dawn + dusk hours.
No facilities at site except a security hut.
Take water.
Some villages and a gas station, with new a guesthouse, are a few km away.
2019 UPDATE according to TripSavvy:
Officially, visitors need a permit to visit the pyramids, which can be purchased from the National Museum in Khartoum. However, anecdotal reports from other travelers state that the permits are rarely checked and can be bought upon arrival if necessary.
Travels in Sudan – 2013
---