The last months at Stalingrad saw trapped German soldiers living like rats, fighting like devils, dying like flies.
For it was at Stalingrad – in the Russian winter of 1943 – that Hitler's Germany suffered its biggest defeat yet, turning the tide of War World Two against the Nazis.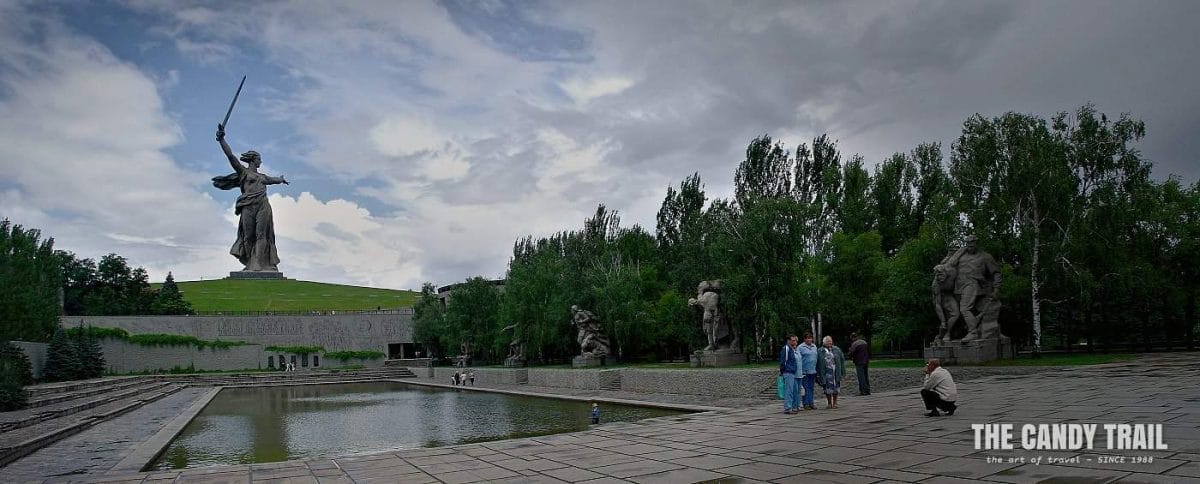 ---
The Stalingrad War Museum is the first place to visit.
The Stalingrad War Museum was what you would expect – weapons, vehicles, uniforms, but best of all: a gripping 360-degree panorama of battle as seen from Hill 101.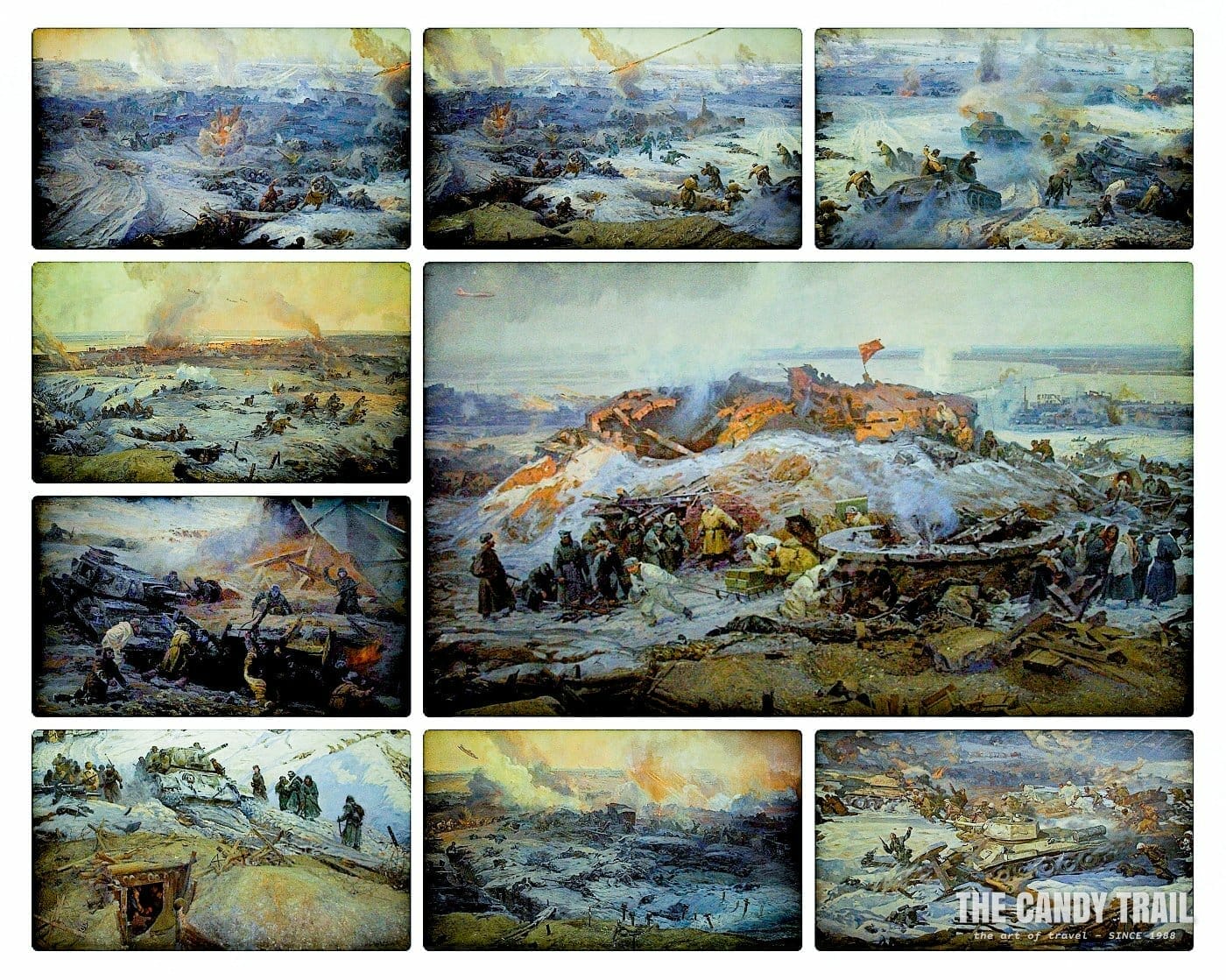 Other Stalingrad battle sites include "The Mill" ruins and various statues marking battle points.
Chunks of devastation – including 'The Mill', a ruined brick building – have been left as monuments to the five months, one week and three days of fighting, which left 1,200,000 dead (including Italian, Romanian and Croatian troops fighting on the German side; and also, thousands of Russian civilians).
It's estimated that the Stalingrad campaign created 2 million casualties (included wounded and sick).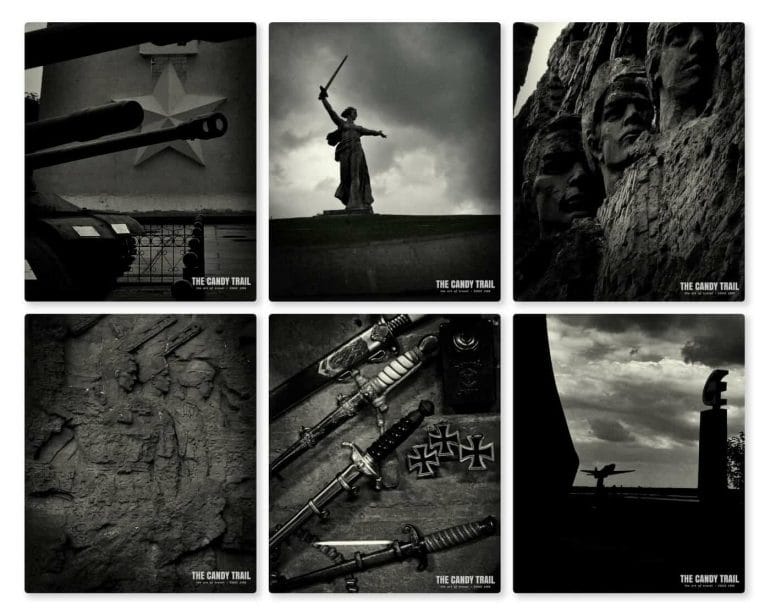 Nazi Germany suffered a massive defeat at Stalingrad.
Soviet leader Joseph Stalin wasn't going to tolerate a defeat at his namesake city on the Volga River, and Hitler wasn't in the mood to back down, either.
Secretly, the Russians had been massing for a winter offensive (like they'd done in winter 1942 outside Moscow, when the Nazi's had their first real set-back since invading Russia in 1941).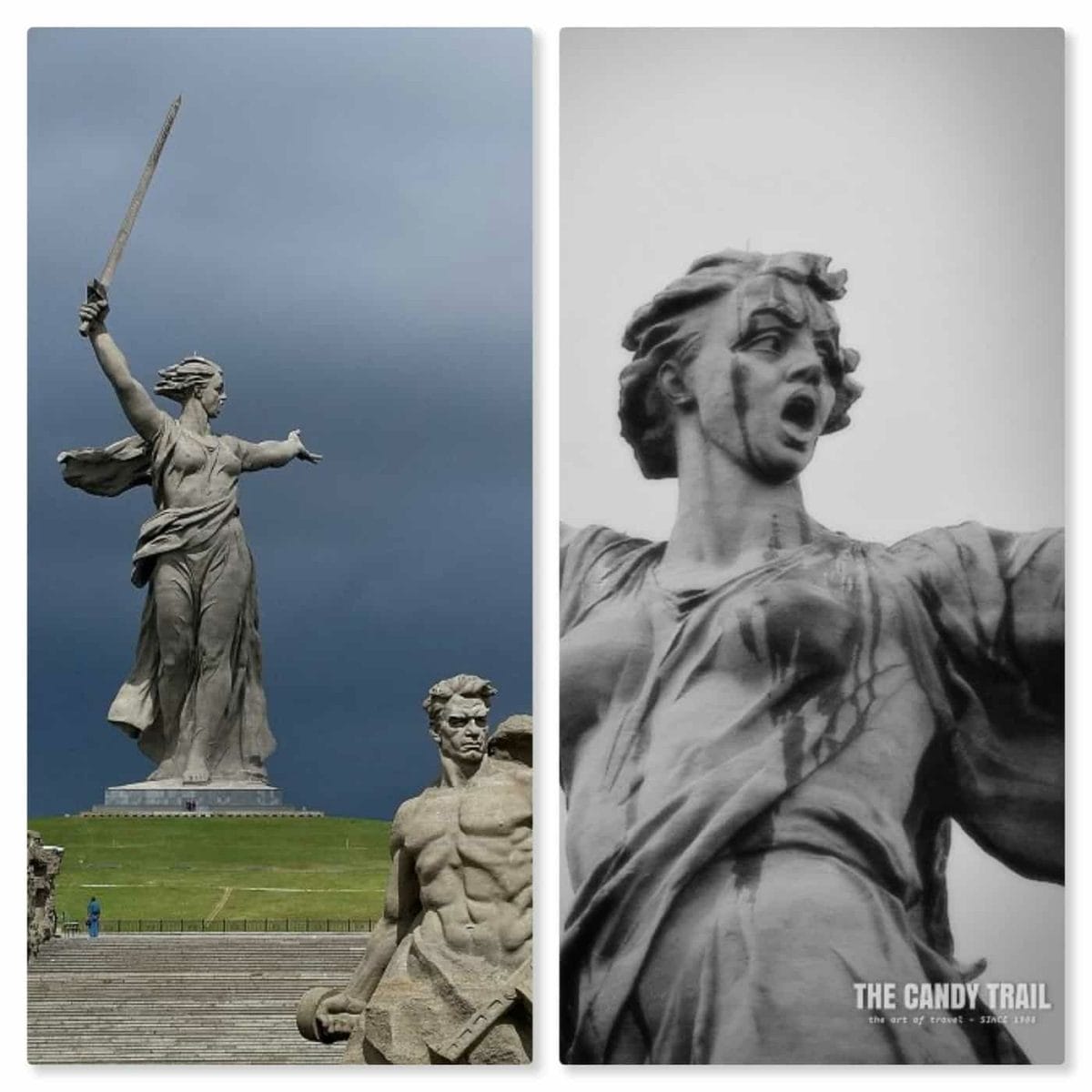 One winter later and the German 6th Army was now encircled and trapped by Russian armies, surrounded at Stalingrad in a 'cauldron' only 60-by-30 kilometers.
Cut-off from other German armies in Russia, the 6th Army was left to fend for itself, for months, with a promise of relief with a counter offensive … but that failed.
Fighting, existing amid intense cold, the German 6th Army also faced a lack of supplies – airdrops of food, ammunition, petrol, medicines, etc, couldn't meet the needs of 300,000 men and their equipment.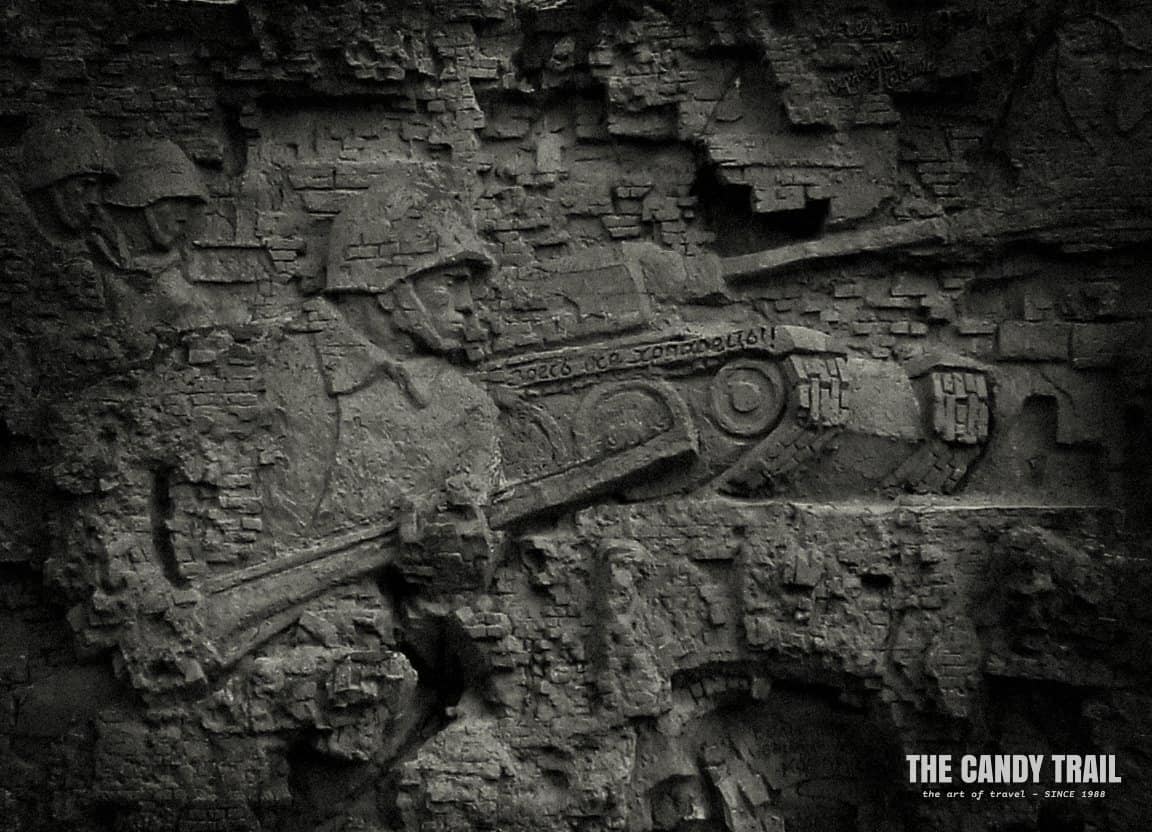 Earlier, at the initial stages of the Stalingrad encirclement, Hitler had refused his field commanders initiative to stage a break-out; rather, he ordered them to stand and hold a defensive line.
Furthermore Hermann Goering, the German Air Force commander, had insisted that his Luftwaffe could supply the encircled 6th Army from the air.
But this was all bluster, as aircraft and crews were being lost more than replaced. Furthermore, the harsh winter weather restricted resupply opportunities.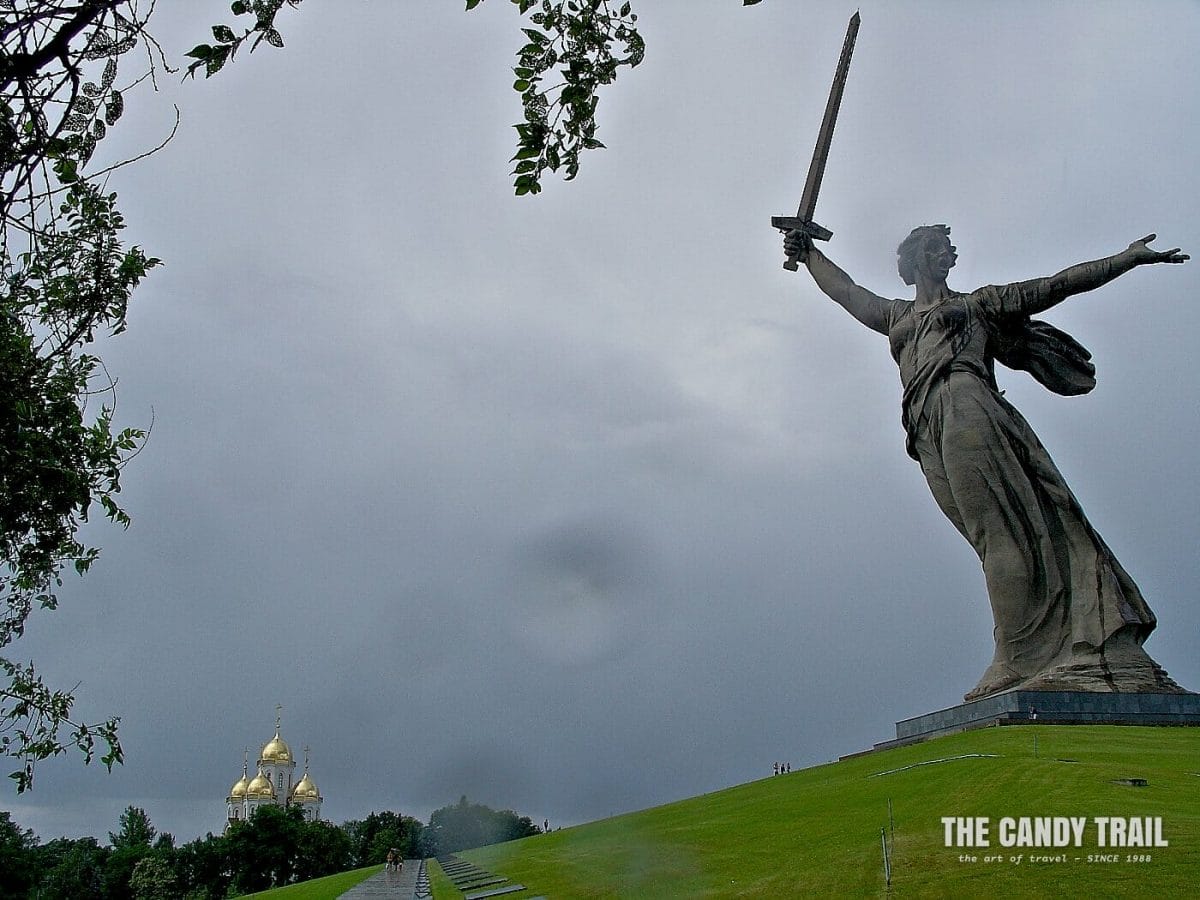 Beyond the endless battles and bombardments, starvation, illness and freezing tempertures took an even greater toll on German forces.
Supply horses and stray dogs were eaten by starving men.
Many troops only had a few slices of bread as daily rations. Most were constantly exposed to the cold, in foxholes or bunkers in the open steppe, or sheltered amid ruins, enduring frostbite, lice, hunger and explosions.
Starved of food and sleep, enduring temperatures at minus 30 Celsius and endless combat stress, the German troops evolved into demoralized, half-frozen zombies.
Conditions became impossible for the German 6th Army at Stalingrad.
The Russians had the advantage in available men, weaponry and an endless willpower and tenacity to defend their homeland.
And they knew that the invaders would suffer-dearly during the bitter Russian winter (as had Napoleon's Grand Army 130 years earlier). Winter killed more enemy that bullets.
Eventually, the 6th Army commander – Paulus, surrendered his remaining 91,000 men (of which about only 5000 returned from Siberian prison camps years later).
Hitler was enraged . In his eyes it was a fight to the last man; surrender was never an option.
"The Axis suffered 647,300 – 968,374 total casualties (killed, wounded or captured) among all branches of the German armed forces and its allies." (NOTE: These numbers vary, depending on how scholars include different aspects of the campaign).
The Russians, "according to archival figures, suffered 1,129,619 total casualties; 478,741 personnel killed or missing, and 650,878 wounded or sick … 955 Soviet civilians died in Stalingrad and its suburbs."

https://en.wikipedia.org/wiki/Battle_of_Stalingrad ( For greater battle details check this link ).
---
In Stalingrad today – now renamed Volgograd, numerous statues mark vital battle sites, headquarters, shifting front lines, etc, across this modern, tranquil city alongside the Volga River; where bathers sun themselves on the sandy shores.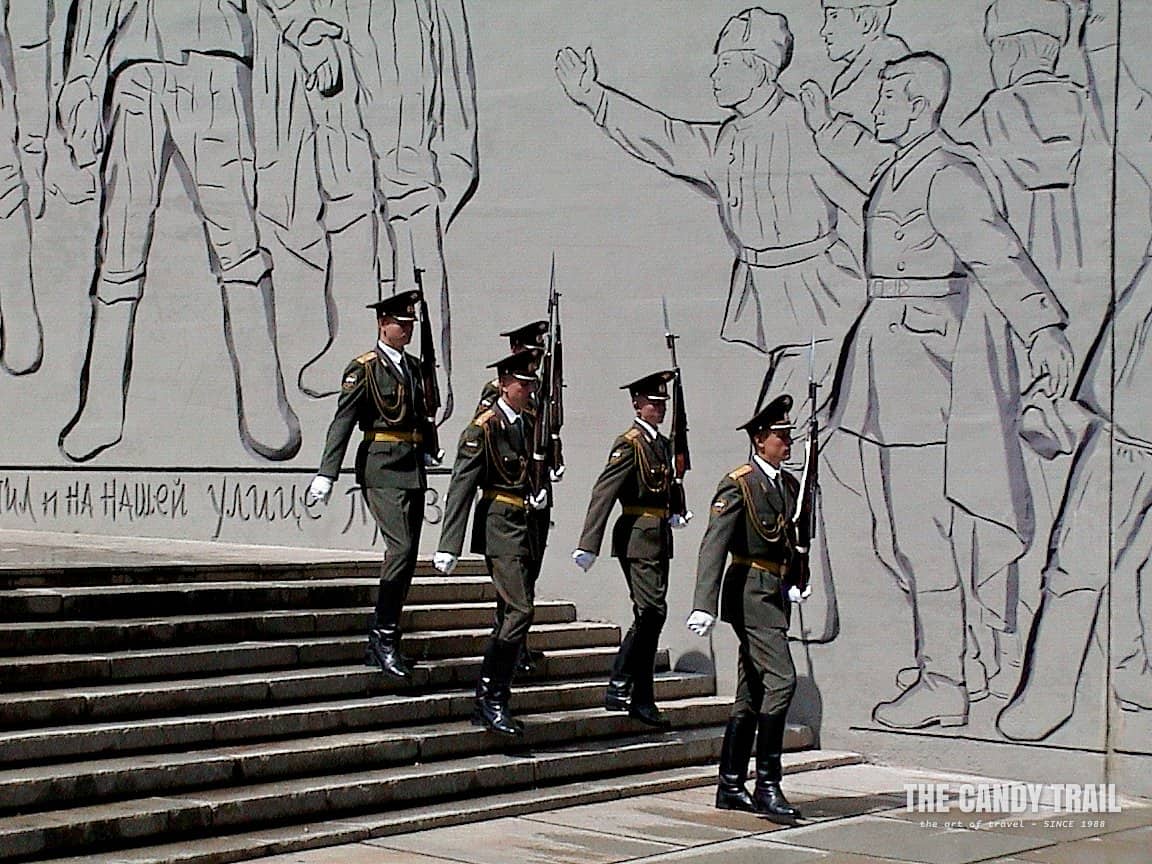 Stalingrad's Mother Russia statue and Hill 101.
On Hill 101, stands the massive Mother Russia statue. Her raised sword and savage outcry, short sweeping hair, long dress and big breasts – defying any enemies from the west.
She stands about 70 meters on a hill overlooking the city and thus, was a site of intense conflict.
But the whole walkway avenue is a park of monuments and audio recordings of dive bombers and battle sounds as you walk thru walls of 'sculptured war scene' ruins and ponds.
Amid this park is an eternal flame tomb within a dome playing sombre classical music – tear jerking stuff; with statue-straight guards and flowered wreaths, surrounded by glistering-gold mosaic walls and lists of names.
I took a bunch of flowers – bought from an old lady at entrance of the park – and placed it here, as the changing of the guards took place.
Meantime, the weather over the space of two hours flipped between very hot, cold winds, and rain storms; water weeping down Mother Russia's face as the sun shone across the battlefields of Stalingrad's fallen.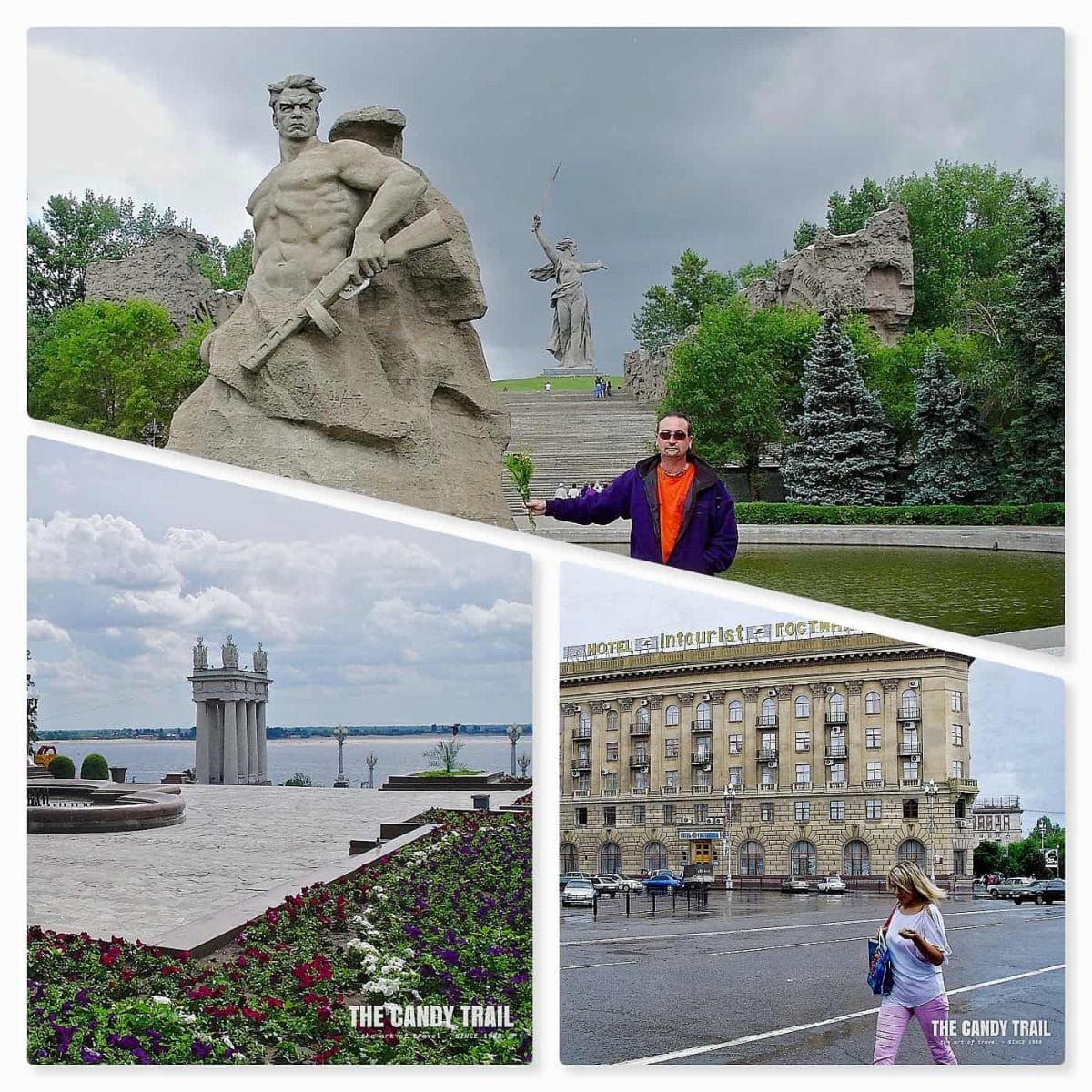 Travels in Russia – 2005
---
FURTHER READING:
Breakout at Stalingrad: The Classic Novel of the Eastern Front
by Heinrich Gerlach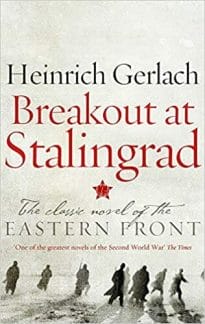 Battle of Stalingrad – History.com
( Concise basics of the battle )
---