Firstly, let me outline my hitchhiking experience
Hitchhiking the Sahara north to south across Algeria into Niger, 1991
Traveling overland – mostly hitching, from England to India, via Iran & Pakistan, 1990
Hitching the Tibetan Plateau, then over the Himalaya high passes into Nepal, 1994
In 1989, I hitchhiked the desert from Jordan into Iraq.
And in 1994, and again in 2013, I crossed the emptiness of Northern Kenya to Ethiopia.
And also dozens of smaller trips in New Zealand, Vietnam, Morocco, Sierra Leone, Iran, India, etc.
---
ROAD-TESTED HITCHHIKING TIPS
---
Agree on a price before starting
While hitchhiking is usually to save on transport costs often it's the only viable means of transport, especially so in remote developing world regions where you may ride on top of a cargo truck, and if this is the case then 99% of the time you will be expected to pay.
Maintain eye contact
Even as the driver passes – often it's at this point that they will slow, and stop. Always have your sunglasses off so your eyes are exposed, and smile slightly.
Also: some folks believe your appearance can hinder the chances of ride. Maybe, but all I know is that in my as a young man with long-hair and wearing "alternative" clothes that this did not hurt my chances but I always took off my sunglasses as rides approached.
Travel light
Make sure you can effortlessly carry your backpack a few km. Heavy, bulky bags are a traveler's biggest nightmare.
Write your destination
For marathon hitchhiking journeys carry white A4 paper and a black or red marker and write – in clear block letters – your destination. Hold it above your head for each passing car to see. Often a joke can work or maybe a smiley face. When I was stuck in Luxembourg I wrote my final destination – INDIA; that got attention and soon a ride out of a tough spot.
Choose your hitchhiking spot with care
Walk or get a taxi or bus to the edge of town, the city, the village. No one will stop at a bend or a busy intersection. If it's very hot find a shady area. Don't walk too far if the area is – like an endless desert. Find a good spot and be patient. Make sure the driver can see you at least 100 meters away and then they can assess you on the approach.
Start long trips very early
Start your trip early in the morning – at dawn if the distance is great, the landscape sparse, the road empty.
Carry emergency supplies
If it's a long journey and the climate – EG: Europe – is temperate or cold carry a sleeping bag and plastic ground sheet so you can sleep anywhere alongside the route if you get stranded. And if it's hot, off course carry extra water and use a hat & sunscreen. You should always have at least some water, and some light snacks / biscuits, maybe some salami or a tin of tuna, for emergencies.
AND always carry the essentials like a torch, map, rain-jacket or poncho, Swiss Army knife, a compass, tissue paper, basic medicines, etc.
Caution on major highways
Hitchhiking in Europe is illegal and dangerous on major highways. Best to wait at convenience stops that have the usual gas and restaurant facilities. Approach drivers directly, or wait at the exit points for departures.
Be social, polite
Because the driver has picked you up – often they will want conversation and company. Introduce yourself, your country, your journey and ask a few questions – if there's no common language use charades, hands – and if the conversation continues fine, or maybe the driver prefers silence … You will assess this within the first 5 minutes. Be warned that numerous conversations during lots of short rides can get tiring but you're obligated to be polite to those that are doing you this favor.
Only take the best rides
Sometimes it's best to decline offers of short rides in favor of waiting for the perfect ride BUT often you have no choice or it's too late in the day or few vehicles pass – so then take any offer.
I've never had a really bad experience hitchhiking but use common sense: avoid drunks, families are good, and if you're female then be extra careful and use your intuition – if it feels bad – don't ask why? just follow the vibe – and decline the offer.
When hitching needn't be your first choice
Hitchhiking the Developing World is often unnecessary as cheaply-priced buses and shared-taxis ply many main routes (but this is less so in parts of Africa).
Be decent
I met some stingy, selfish travelers, who only hitchhike to save money and abuse other's generosity to the full. You know, the bullshitters who want the world – for free. I believe this attitude is against the spirit of travel, and common decency. So please don't take too much, and also give back, when you can.
Benefits of Hitchhiking
Hitchhiking can be a great way to encounter the locals and learn. Also people are often generous.
They may buy you a meal, smoke a joint with you, offer you a place to stay, sometimes detouring off their route to take you closer to where you want to be.
Now my friends – have confidence.

Be wise, be good, and get on the road …

Go !
---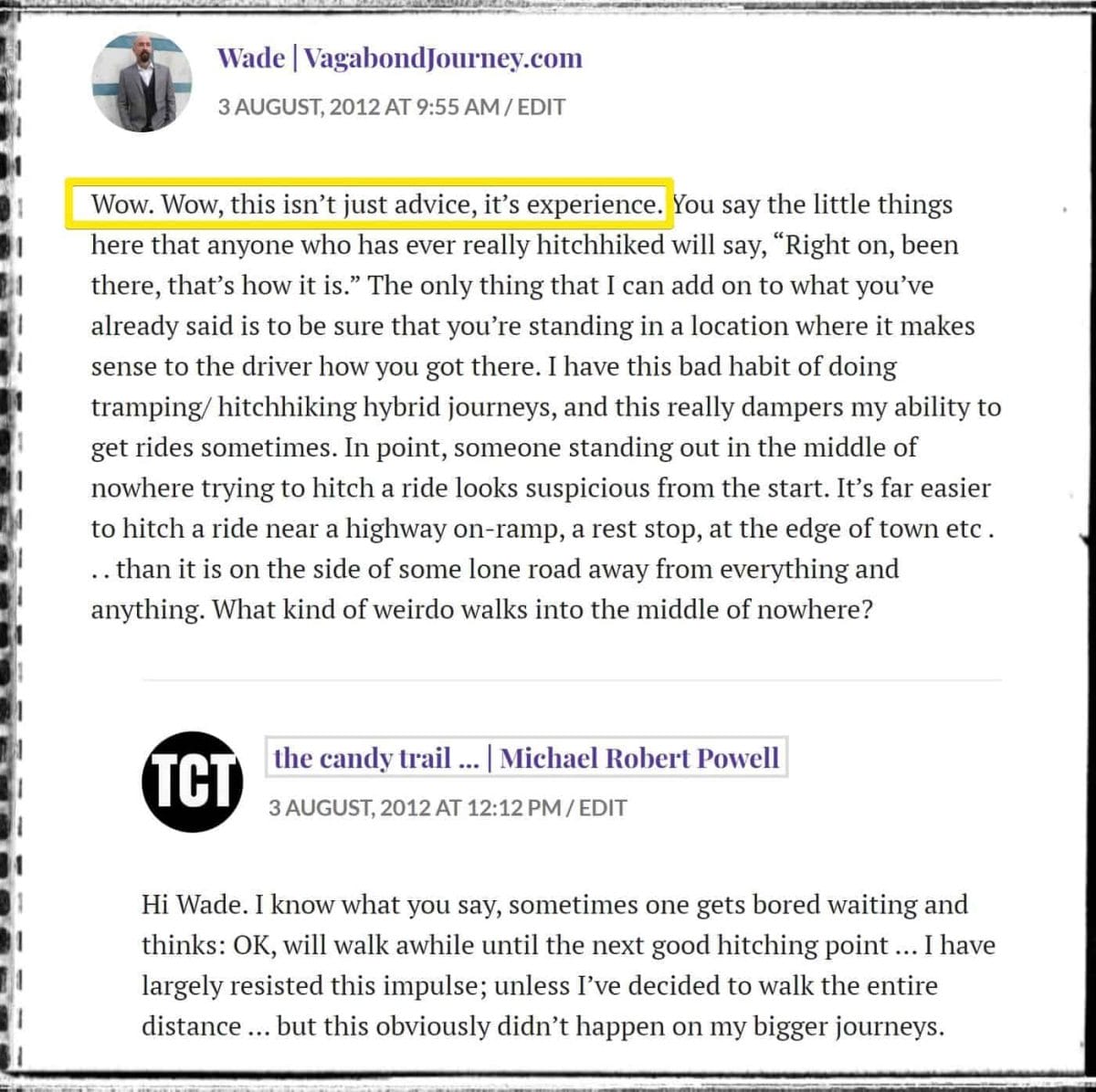 Visit WADE @ VagabondJourney.com