Their amused stares, the smiles. I wake to face three young boys with dirt-smeared faces and sparkling brown eyes.
These happy, scruffy kids are with their mothers and sisters, gathered in this Hmong tribal house to trade with my recent travel friends, Mo and Adam from California.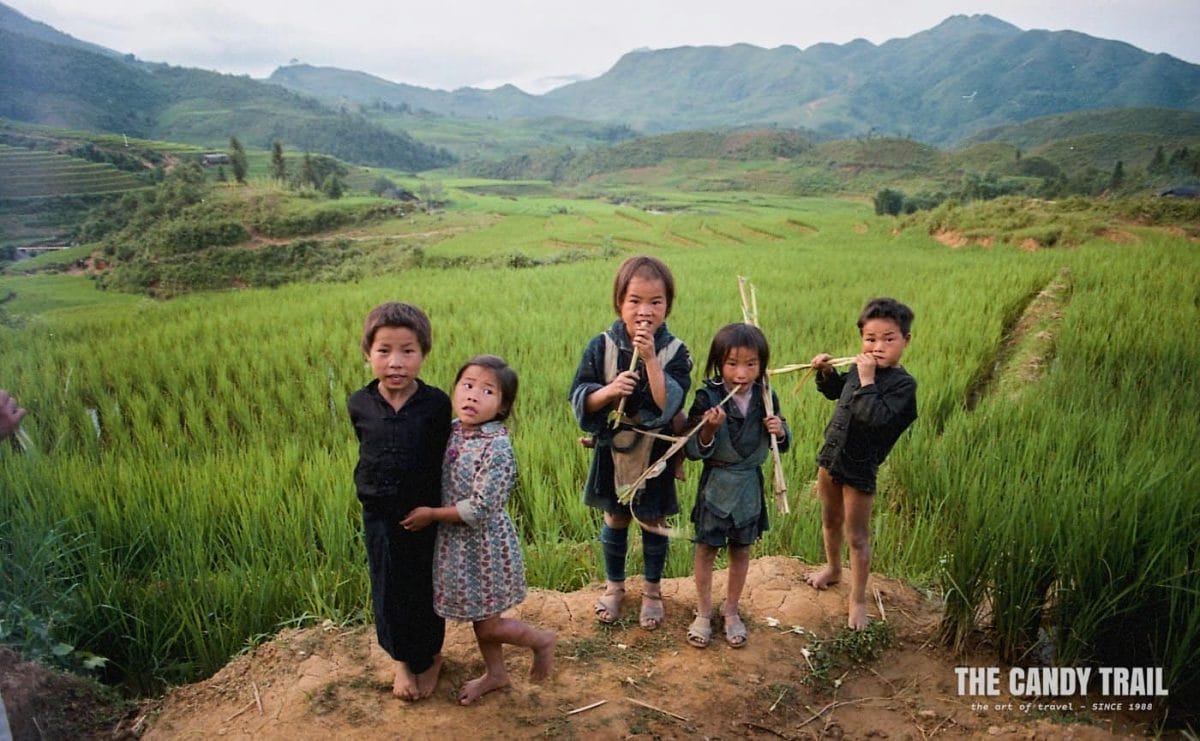 They are here to purchase hemp cloth for fashion stores in the west.
(The fibers from hemp – a harmless cousin of the cannabis plant – are used by the Hmong to weave tough-wearing material.)
Hmong clothing is ornate.
The boys are dressed in naval-blue tunics with embroidered cuffs and collars, but from their waists to their tiny, dusty feet, they're naked.
The women wear leggings, long skirt-shirts – drawn at the waist with a slash, jackets and vests, and head-wraps with large silver hoops in each ear; every inch is wrapped in layers of naval-blue cloth.
The colorful, elaborate cuffs and collars of their garments also stand out – the Hmong are famous for fine embroidery on clothes and rugs.
Hmong women study from childhood to perfect this intricate art as a single square inch, containing up to 400 tiny cross-stitches, can take as long as two hours to complete.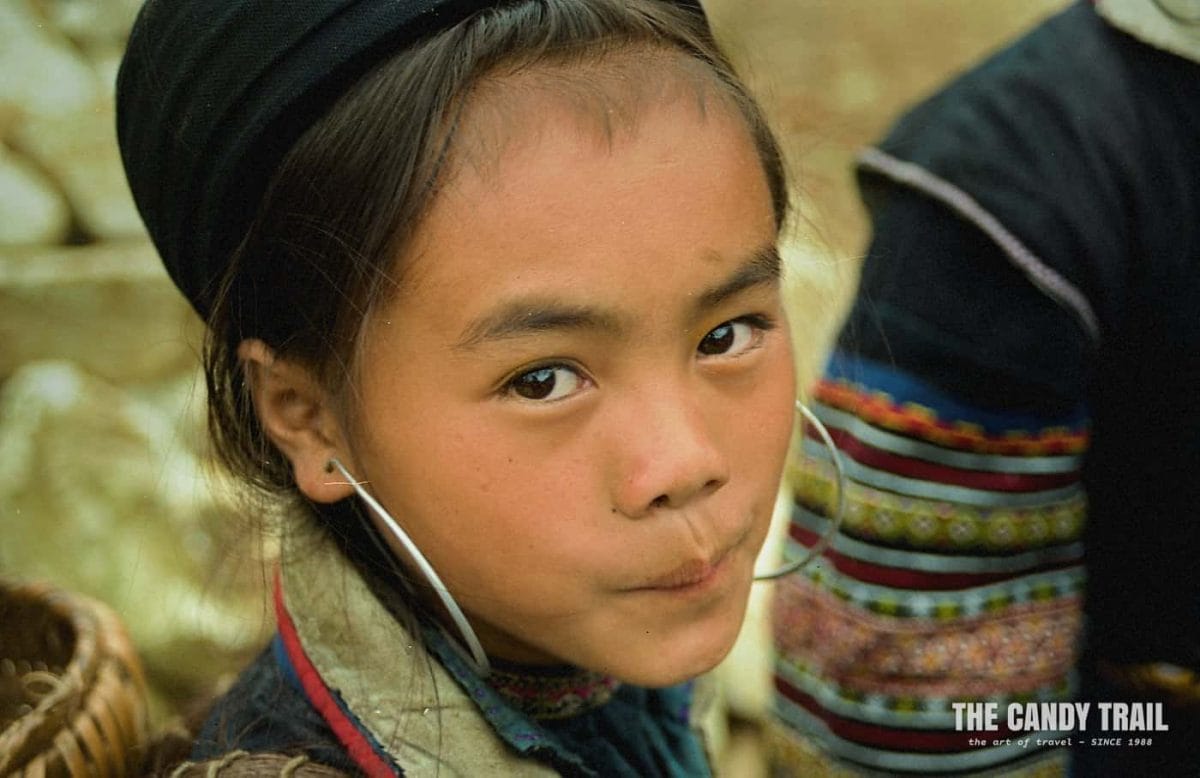 The Hmong Hill-Tribe originate from China.
The Hmong tribe were originally from the mountains of southern China but during the mid-19th century clans fled to Indochina to escape Chinese rule.
Today about a million Hmong live in north Vietnam, Laos and Thailand, while some 2.5 million remain in China.
The Chinese call the Hmong – Miao, which connotes "barbarian", but their own name Hmong, means "free men".
The distinctive culture of the Hmong tribe draws tourists like myself to the mountains of north-west Vietnam, where until recently, this shamanistic hill-tribe has been isolated for decades.
It was at the hill station of Sapa, ringed by peaks that the French colonists named the Tonkinese Alps, that I first encountered the Hmong.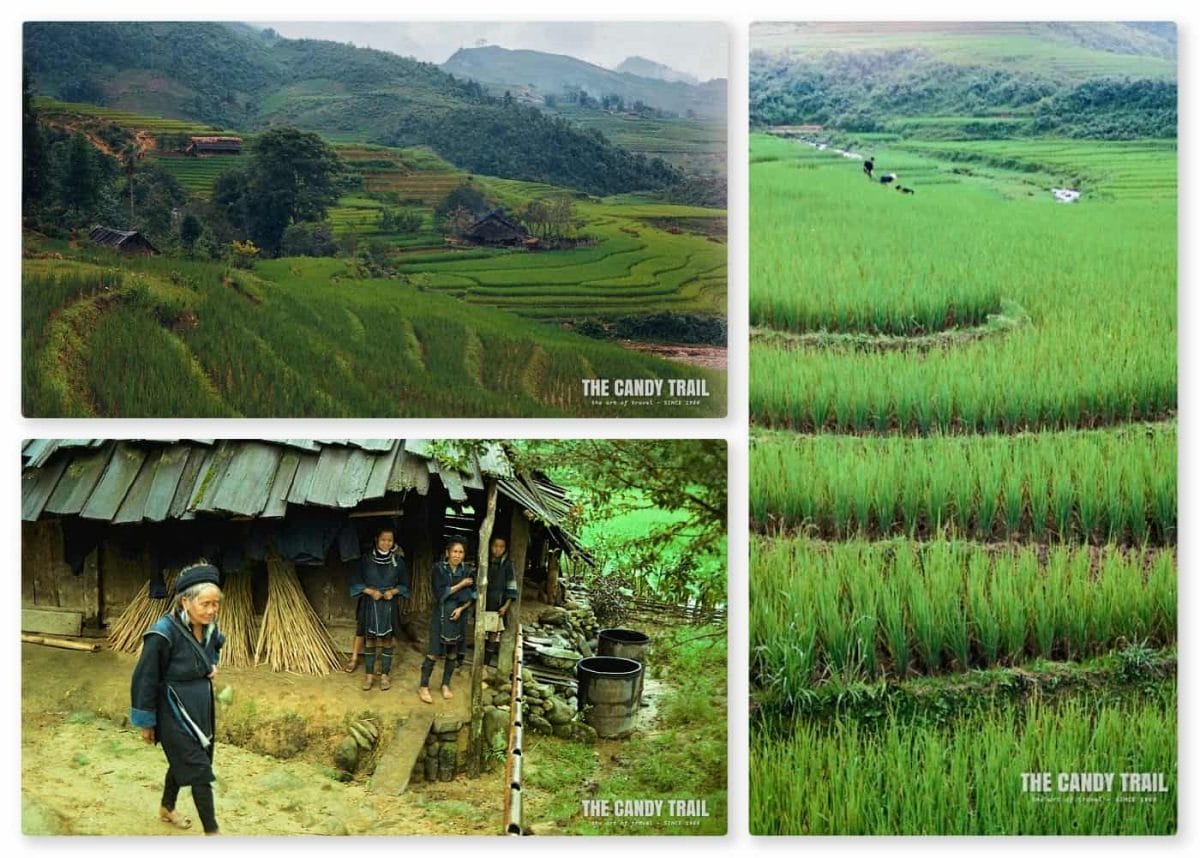 Hundreds of tribes people – mostly women and children – had converged on Sapa for the weekend market.
Amid the benches of cut meat and stacked fruit and stares and smiles we met Si, the spokeswoman of one Hmong clan and it was she who had invited us to their village.
Traditional Hmong homestay around Sapa
This village is around 10 km from Sapa, located in a river valley surrounded by terraces of rice, the lush paddies stepping the slopes to the misty, forested peaks.
In this house where we stay it's very basic.
Imagine a Medieval barn made of slatted wood and built on the ground, cracked earth floors like cement, a bamboo ladder reaching to a loft of straw. Hens forage inside as a dog rests in one corner.
Furnishing are a wooden table and chairs in the main room.
And beds and an open-floor-fireplace bordered by burnt stones and blackened pots and pans in another room, where hang twists of yellow chillies from bamboo rafters.
In the latter room we're gathered, after a dinner of rice with boiled corn rusks and pink flower buds.
Lunch, breakfast and dinner is the same simple meal.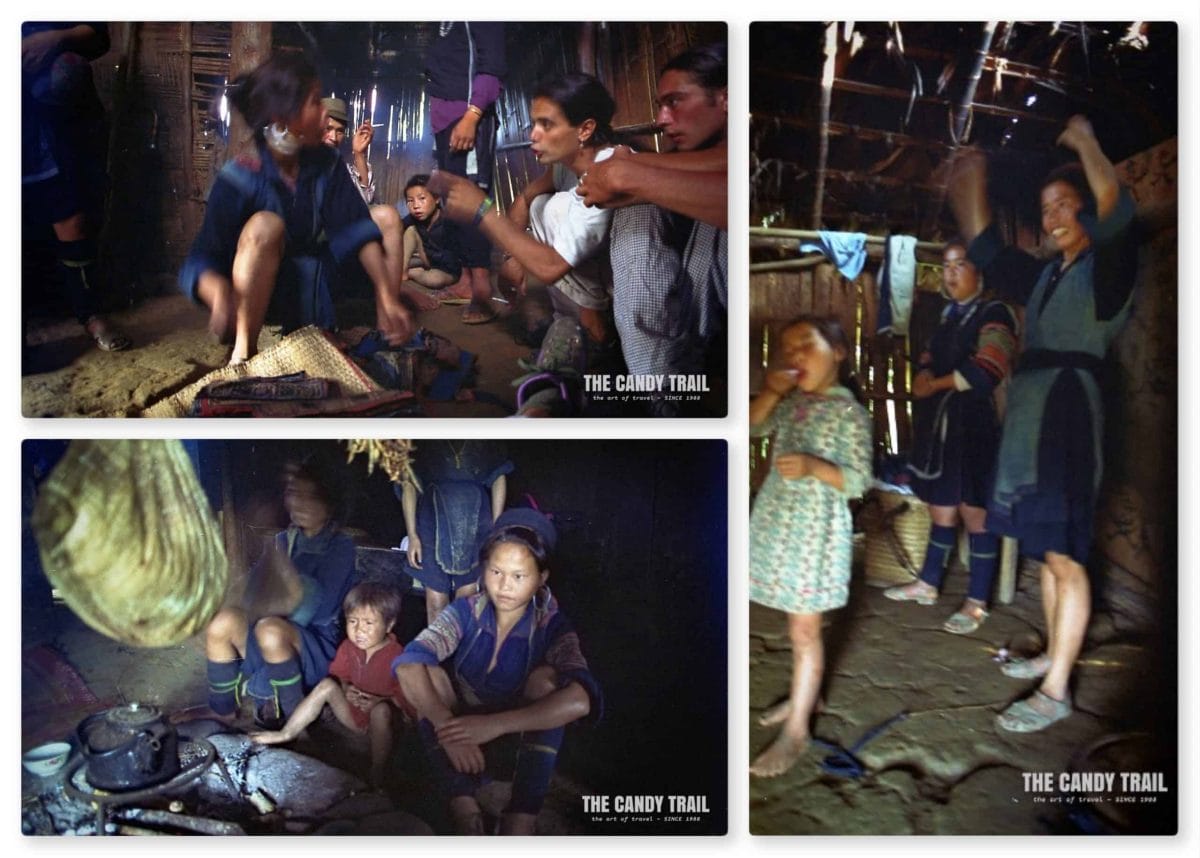 Si stirs the embers and places a pot on the open fire. She asks "tea?" Although she speaks just a few words of English, after some charades and phrases of Vietnamese we understand something of her life.
Si is 45 and respected by her people as the village go-between, relating to ethnic Vietnamese and hill-tribes alike.
She has seven children. But one is dead and another is addicted to opium. Her first husband died; her second beat her, so she left.
During the Vietnam conflict (while many Hmong sided with the US), Si had been a member of a North Vietnamese anti-aircraft unit, and their their all-women unit claimed many American bombers. She received 10 medals.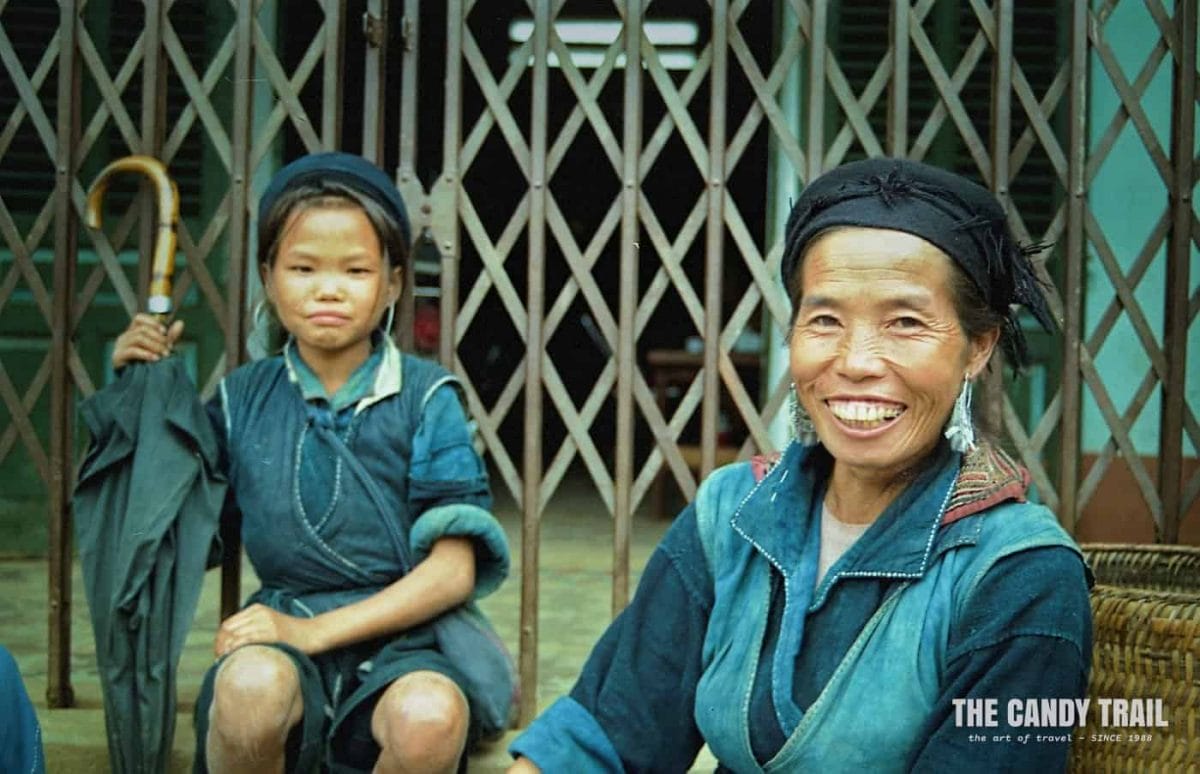 Swirling smoke stings my eyes as Si retrieves the hot, charred pot, stick hooking its handle to be placed beside a tray of white china cups.
The kids are all grins, as we sip black sugary tea with extended family and friends.
An old man smokes a water pipe of tobacco, then joins a young guy slouched on a mat in the corner of this flame-lit room.
With a needle, the young man nurtures a sticky black ball on the bulb-end of the pipe as it draws across the candle and as the old man lies relaxed on his side, head on pillow, inhaling from the slender wooden stem, sucking up that soothing, bittersweet tingle.
Many Hmong smoke opium – yet few take it to the point of addiction.
Hmong society condones the use of opium among elderly people (with the help of the drug they slip away in a peaceful euphoria, rather than enduring a painful decay.
On the other hand, a young addict is seen as a disgrace to his family).
In recent years the Vietnamese Government and the United Nations have been trying to eradicate Hmong opium cultivation, replacing it with alternative cash crops, and enticing change with the building of infrastructure in the remote mountain regions.
Around midnight, I'm slouched on a bed in the corner of his communal room.
Meanwhile Si and another woman sit sewing, eyes fixed to the needle and cloth as they talk by lantern light.
In the far corner, a man and woman lie curled towards one another with flame and pipe working between them.
My friends Adam and Mo have retired to the room next door. I hear them talking, but not what they talk about, for Adam's portable plays dreamy, ambient-trance.
This whisper of music is the only link with the outside world.
But I'm swept away by the passage of time, surrounded by shadows, strange language, flame-enhanced faces.
Here I am within range of the 21st century, here amid people simultaneously living ancient and modern lives.
Travels in Vietnam – 1994
[ This article was originally published in 1996 + 1998 and is one of a series that I wrote in the 1990s, but later decided to stop writing for the mainstream media. ]
---