While I've seen giant stone heads in Central America – such as the Olmec heads in Mexico, it was encountering an ancient stone head half-buried in a field that really excites me.
(Rather than a pristine ancient head in a museum).
Such a sight exists at El Baul in Guatemala.
---
The Giant Stone Head of Guatemala
El Baul archaeological site is lost amid sugarcane plantations about 5 km from the sweltering town of Santa Lucia Cotzumalguapa.
After leaving the Finca El Baúl – Sugar Refinery HQ and its small museum of Pipil sculpture, which I reached by taxi, I set out on foot towards the fields but soon hitched a ride in an aged-US-school bus taking workers back to town.
Soon they dropped me at a dirt path leading into a jungle of high sugarcane, where I proceeded to wander the damp track.
Then a lightning storm came crashing!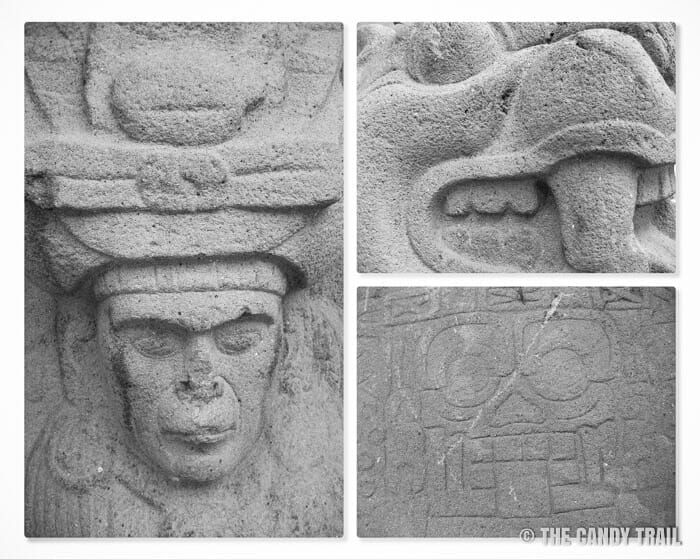 My poncho saved me from a soaking – but I was already wet from sweat.
So the rain it cooled me nicely.
---
Locating the Stone Head is Difficult
After 30 minutes, I was about to give up on finding the unmarked site when I encountered a lone worker – carrying machete and bag.
In broken Spanish, I explained where I was going amid this jungle of sugar cane.
Towards a low grassy mound – an unexplored temple platform – he led me to the ancient stone head.
---
Facts About the Pipil Ruins at El Baul – Guatemala
The ruins of El Baul are from the little-known Pipil civilization and their city of Cotzumalguapa, which flourished from 650–950 AD.
"Cotzumalguapa was most likely the seat of a powerful state, which exerted political control over a vast region of the Pacific coast."

https://web.archive.org/web/20071023135932/http://www.authenticmaya.com/Cotzumalguapa.htm
Of the Pipil ruins in the area, it's El Baul – aka Cotzumalguapa – that's the largest and most probably where the king's palaces were located.
Studies indicate the city's wealth was based upon the production of cacao; these seeds were traded across Mesoamerica for use in ritual drinks.
---
El Baul is Still a Sacred Site
The site of the El Baul stone head near Santa Lucia Cotzumalguapa has been a place of worship for over 1400 years.
Today, Pipil descendants and Maya go to El Baul to pray, light candles and burn copal – pine-incense, and leave offerings of liquor. And, sometimes sacrifice chickens.
The blackened face of the huge stone head is from the smoke of ritual fires and the wax of dripping candles.
---
The cane worker was friendly, especially after my tip.
(He deserved it; would never have found it without him. probably would've gotten lost – since I couldn't even see a horizon amid the sugarcane).
He happily – but sternly posed for a photo (= below).
His expression and cheekbones – strangely similar to the giant stone face of this surreal ancestor.
Do you agree?
Afterwards, he continued onto his village.
And I wandered the 5 km back to the town of Santa Lucia.
Indigenous families outside their houses stared at the lone gringo wandering amid their forgotten corner of Guatemala.
All smiles.
My greetings were returned as I offered maybe 100 "Buenas Tardes" – Good Afternoon(s) to all I that encountered on route.
And me, I was elated having met the giant stone head, and so when in town I wandered straight into a dive bar for drinks and fun (but that that's another story ? ).
Travels in Guatemala – 2010
---